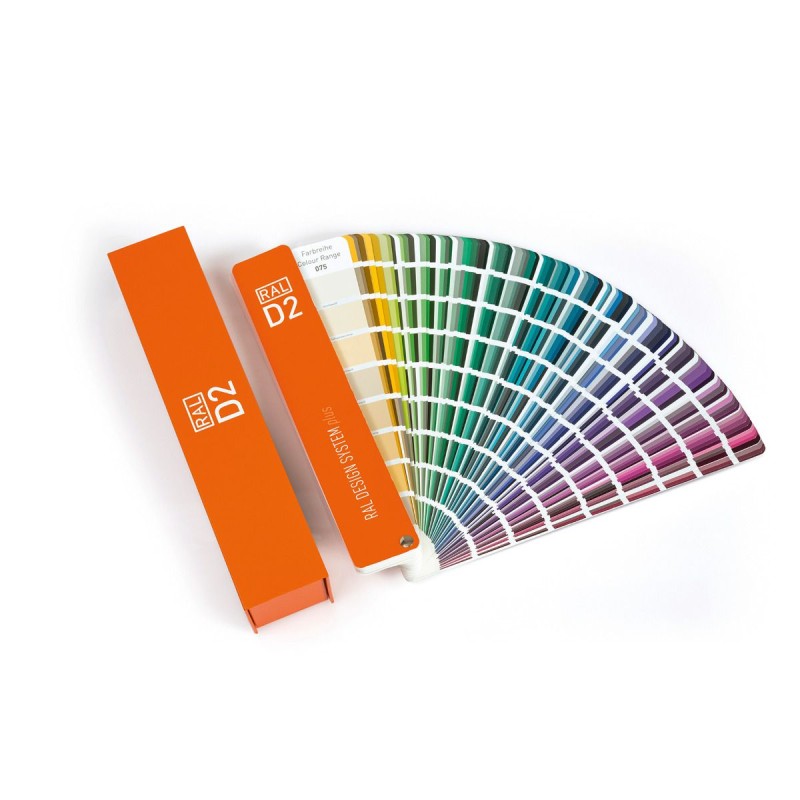  
RAL DESIGN D2
Colour chart with 1'825 RAL DESIGN SYSTEM plus colours in protective box
Colour chart size 29.0 x 5.0 cm
Fuelling your creativity: All 1'825 RAL DESIGN SYSTEM 
plus

 colour nuances at a glance

The handy and compact RAL D2 Colour fan is your first choice, if you are looking for a tool to provide you with a quick overview of RAL DESIGN SYSTEM plus colours and support you in your initial colour decisions. 1'825 colours on 225 pages are displayed in colour circle order and are organised systematically into 40 separate colour palettes.

The ability to quickly locate and combine colours with the same hue, lightness and saturation provides architects, designers, manufacturers and craftsmen with significant benefits – in the design studio, at the first client consultation or on site. It has never been so easy to choose and match colours.
225 colour pages with a total of 1,825 shades
Fan deck size 29.0 x 5.0 cm
Colour field size 2.5 x 5.0 cm
Every shade with HLC-code and colour names in German
Additional fan deck with colour names in EN, FR, RU & CN
Gloss level of colours: semi-matt
Protective box covered with high quality, embossed glossy film
Customers who bought this product also bought: